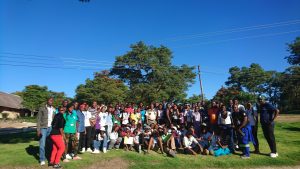 RNCYPT and its partners are hosting the National Conference for Child and Youth Led Groups from the 26th to the 3rd of December 2017 in Marondera at Karuzamaondo Outdoor Centre. Our participants will be ranging in age from 10-24.
We are therefore calling for Youth Volunteers to help our camp be a success
The Youth Volunteers will have the following roles:
Play an important role in assisting our instructors and our participants with their activities. This includes assisting with set-up of rooms, preparation of materials, working one-on-one with participants and helping to clean-up at day's end
Assist with kitchen duties, first aid, and any other camp duties as maybe assigned by the camp supervisor.
Requirement for Youth Volunteers:
Volunteers should have the desire and ability to work with children and young people in an outdoor setting and should be committed to upholding RNCYPT's Child Safeguarding Policies
An analytical mind capable for "out-of-the-box" thinking to solve problems
Outstanding teamwork spirit and determination
Excellent communication (oral and written)
Aged between 18-25 (females are strongly urged to apply)
Must be able to reside at the campsite from the 26th of November to the 3rd of December 2017
Benefits
A week of fun, learning and making new friendships
P.S.: RNCYPT will cover all expenses for our Youth Volunteers
Interested:
Email us on nationalconference@rncypt.org and copy rncypt@rncypt.org  a one-page note telling us why you will be the best volunteer and don't forget the following: Name, Email, Phone Number
Deadline for applications: 20 November 2017